Lieutenant Kevin Reser, Patrol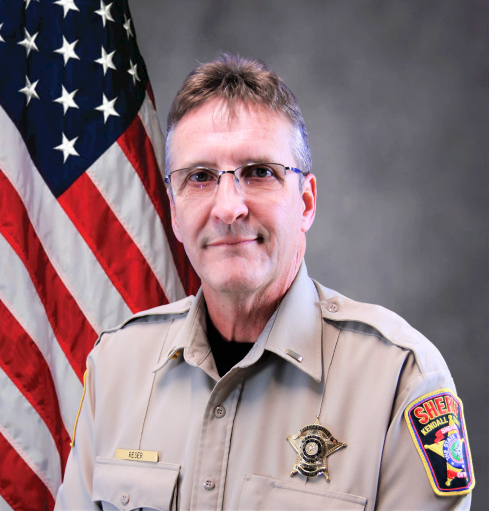 Kevin Reser's law enforcement career began in 1982 when he enlisted in the United States Air Force as a Security Forces member. After completing four years of active duty he continued to serve while assigned to the Air Force Reserves.
Soon after the terrorist attacks of September 11th, 2001 Kevin was called back to active duty for a two-year period. During this period, he volunteered to deploy on 3 separate occasions as the Non-Commissioned Officer in charge of a joint service team, conducting POW operations in support of Operation Enduring Freedom.
In 2006, while assigned to Randolph Air Force Base, Texas, serving as the Security Forces Functional for the Headquarters Air Education Command, he served another 14-month active duty tour. During this tour, he was responsible for 2,200 Security Force members and 28.4 billion dollars in resources at 12 geographically separate locations.
In 2009, after 28 years of service, he retired from the Air Force Reserves as an E-9 Chief Master Sergeant.

In 1987 Kevin began his 31-year career with the San Antonio Police Department. His first assignment was to the Patrol Division where he served as a Patrol Officer and Field Training Officer. In 1996 he was promoted to Detective Investigator and was assigned to the Crime Scene Unit processing crime scenes. After 2 years as a Detective, he was selected to transfer to the department's Narcotics unit. In 2004 he was promoted to Sergeant and was assigned to Patrol Division as a patrol supervisor.
After 4 years on patrol, he was then selected to transfer to the department's Intelligence Unit. While assigned to the Intelligence unit he was instrumental in the planning and the startup of the San Antonio Regional Intelligence Center (SARIC). He supervised six (6) Patrol Officers and ten (10) Detectives. The Officers worked in the Real-Time Crime Center and the Detectives were assigned to the FBI Safe Streets Unit, the FBI Joint Terrorism Task Force, the SAPD Gang Unit, and the regional ATF Office.
His last assignment was with the San Antonio Police Department's High-Intensity Drug Trafficking Area (HIDTA) as the Task Force Commander. This task force consists of SAPD Narcotics Investigators, Homeland Security Investigators, DEA Agents, Texas DPS Agents, and Bexar County Sheriff's Investigators. The detail is responsible to investigate complex Drug Trafficking Organizations and Money Laundering Organizations at the federal level. He also managed a federal grant from the Office of National Drug Control Policy of 1.9 million dollars in baseline funding and 190,000.00 dollars in discretionary funding.
Education/Credentials/Licenses:
B.S. Criminal Justice, American Military University 2007
A.S. Criminal Justice, San Antonio College 1991
Master Peace Officers license 2002
Private Pilot license 2012