More >
History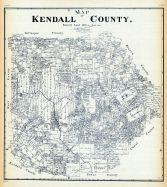 The history of this part of Texas before it became Kendall County has much of its roots in Germany and with German immigrants. In northern Germany, particularly, there was over-population, crop failures, Industrialization and Revolution during the 1840s and 1850s. Also important was the desire to escape the required years of military service in Germany as well as the threat of war. By the early 1840's several thousand Germans had survived the two-month voyage across the Atlantic to new homes in Texas. German interest in Texas entered a new phase in 1842 When an assembly of five princes and sixteen noblemen convened on the Rhein River and formed a society to promote German colonization in Texas. This poorly organized, naive and under-financed organization is known as the ADELSVEREIN or Society For The Protection Of German Immigrants In Texas. They organized and recruited people in rural areas to migrate to Texas and in 1843 devised a grand colonization scheme. They developed four objectives, for purely philanthropic reasons: to improve a lot of the working class; to unite the immigrants by giving them protection; to maintain contracts between Germany and the immigrants; to develop maritime trade and to find reciprocal trade markets.
The Verein began its project by contracting for land in Texas for the Bourgeois-Ducas Grant on June 3, 1842. This carried the stipulation that four hundred families would be settled on the land within eighteen months. This specification was not met and the contract expired in December 1843 and could neither be renewed or extended. The German immigrants were expected to arrive in the fall of 1844 and there was no land for them. Prince Carl Solms faced this emergency by going to San Antonio de Bexar to inspect various grants, but in the meantime directors of the Verein, on June 26, 1844, had signed a contract of interest in the Fisher-Miller grant of 3,800,00 acres between the Colorado and Llano Rivers. This contract provided two hundred families and single men to be located within in a year. Each married man would receive 640 acres and a single man 320 acres of land.
The Verein had made the contract although no member had inspected the land to be colonized which actually was not favorable for colonization. It was situated too far inland, flooded rivers would hamper transportation, the land was not fertile or productive and this was Indian territory where there was no peace government. This was one of the biggest land swindles of the century because Fisher and Miller had no right to sell the land to the Germans that they believed they had acquired.
Meanwhile, in Germany, agents of the Verein had begun to sign agreements with persons wishing to go to Texas. The immigrants, when they arrived on the coast of Galveston or Indianola, were left camping while plans were changed. Miserable, hungry and tired after a long cross-Atlantic voyage, these once healthy families were now the subject of epidemics. Typhus broke out and many died. It was during the Mexican American war and all forms of transportation had been confiscated by the Army. It was a disaster.
Many had to walk the several hundreds of miles to the Hill Country and many died in their paths. Prince Solms found new land that was acceptable and the people went there at the site of the present of New Braunfels on March 14, 1845. In 1846, New Braunfels was becoming crowded and Fredericksburg was founded as an exploration of new land by the immigrants continued. Soon the Germans were moving westward and formed settlements that grew into what is now Kendall County. Germans in Texas, not Indian fighting pioneers, made the first settlements above Balcones fault. In the Hill Country today, more than any place in Texas, this German culture from the ADELSVEREIN colonists has continued to influence our lives in this century. In 1847 the Verein went bankrupt. During its five years of operation it brought about 7, 400 immigrants to Texas. The massive migration continued until 1860 when approximately 20,000 more Germans moved to Texas.
Kendall County, lying in the valley of the Guadalupe River in the "Hill Country" of Texas, was officially created in 1862. It's an area of 430,000 acres or 670 square miles of land was created from parts of Bexar, Comal, Blanco, and Kerr Counties. As populations grew in the older settlements such as New Braunfels and San Antonio, early and mostly German immigrants moved away for more room and settled new communities which are now a part of Kendall County.
Each has its own uniqueness:
SISTERDALE: was the first settlement in the county and was begun in 1847 when Nicolaus Zink built his cabin in the valley of Sister Creek. It was a "Latin Colony" of German intellectuals. It did not grow into a large town but today there are two Historical Districts thereof the Ottmar von Behr homestead and Badenthal.
BOERNE: was established in 1849 and was named in honor of Ludwig Borne, a German publicist. It was a farming, ranching area that grew into the largest city in the county and is the county seat.
COMFORT: was founded by Ernest Algelt in 1854 and a group of "free thinkers". it is now the second-largest city in the county and a greater portion of its downtown area is a Historical District.
CURRY'S CREEK: originated in 1850 because of a sawmill established there by Judge William E. Jones and was a thriving community. It no longer exists as a community and its post office was absorbed by Kendalia in 1895.
KENDALIA: was surveyed and plotted by C.W. Vogel in 1883 but the town never grew to expectations. It is now a small ranching town with an active volunteer fire department, library, and store.
GRAPETOWN: was settled in 1855 by German immigrants from Fredericksburg looking for more land and wildlife. Part of it is in Gillespie County. It was at one time on the main trading and railroad and prospered for 91 years. Now it is a sleepy village.
BANKERSMITH: was an outgrowth of Grapetown when the railroad brought expansion. The San Antonio, Fredericksburg and Northern Railroad tracks are gone now and so is the town.
WARNING: was created in 1888 following the completion of the San Antonio and Aransas Pass Railroad. It was a thriving trading town in its prime. In 1960 the railroad tracks were removed and an inter-state highway now by-passes another ghost town of the past.
WELFARE: like Waring, was a product of transportation routes including the stagecoach railroad and is now by-passed.
LINDENDALE: was formed in 1872 by a Gate family and was named for the Linden trees that grew on the Blanco River. It was a small community with a schoolhouse at one time.
KREUTZBERG: was named for a cross placed on a hill thereby Vincent Phillip in 1847 to thank God for a safe voyage from the old country. It was and is now a small community.
BERGHEIM: was founded in 1900 by Andreas Engel for commercial reasons at the cross-roads of the Boerne-New Braunfels and Blanco-San Antonio trading routes. The Old Country Store is still the hub of the small village as it has always been.
Some of these communities made it and others did not, but even in those that did not, you will still find descendants of the original pioneers, some still on the original homestead. In those days the original counties were very large. When a particular area of the country became over-populated resulting in congestion, bad roads, and slow transportation, a demand was made by groups of people for the creation of a new county. They needed a new county seat which was more convenient. They needed a place, among their own people, to file a deed, record a brand, to govern, or to hang a horse thief in the live oak tree on the courthouse yard, if needed. This is what happened at the birth of Kendall County.
In December 1859, 80 settlers of Boerne and Sisterdale petitioned the Legislature of Texas for the organization of Kendall County. Comfort was the county seat of Kerr County (1861-2) and also drew up a petition protesting the origination of a new county. Kendall County was created, however, and included Comfort in 1862.
So far as the records are available, the first meeting of the County Court after its incorporation was a special meeting held on March 8, 1862, and was held for the purpose of organizing the County of Kendall. Those present at this special term of the County Court were Honorable Chief Justice Joseph Graham and the County Commissioners A. Vogt, Christian Rhodius, James S. Nowlin and Christian Bonnet. Among the proceedings at this special term was a direction to the County Clerk to give notice to the several precincts that County Court would meet on March 29, 1862. The purpose is to determine the places to submit to the people from which they would select the county seat and that sealed proposals for donations in the reference to this object may be sent to the County Clerk at any time previous to that date! Pursuant to the said order, the County Court met again in Special Term on March 29, 1862. Those present were the same Chief Justice and Commissioners mentioned above. At this meeting, it was ordered that the two places, Sisterdale and Boerne be submitted to the people as places to be voted on for a county seat. At the regular May Term, 1862 of the County Court, it was resolved that the County Clerk be directed to give official information to Gustav Theisen and John James at San Antonio, that an election held on April 26th according to law.
Boerne was elected as the County Seat by a majority of 67 votes above Sisterdale. He requested them to make and deliver the titles for the 14 lots, each which they proffered to give in this contingency. A year or two after the County Seat was selected John James made a conveyance to Boerne of the 14 lots that he had promised to give in the event Boerne was selected as the county seat. In the early history of Kendall County deeds and mortgages were presented to the Commissioner's Court and the list of the deeds registered were inserted in the minutes of said court.