2023 Kendall County Blue Santa
11/03/2023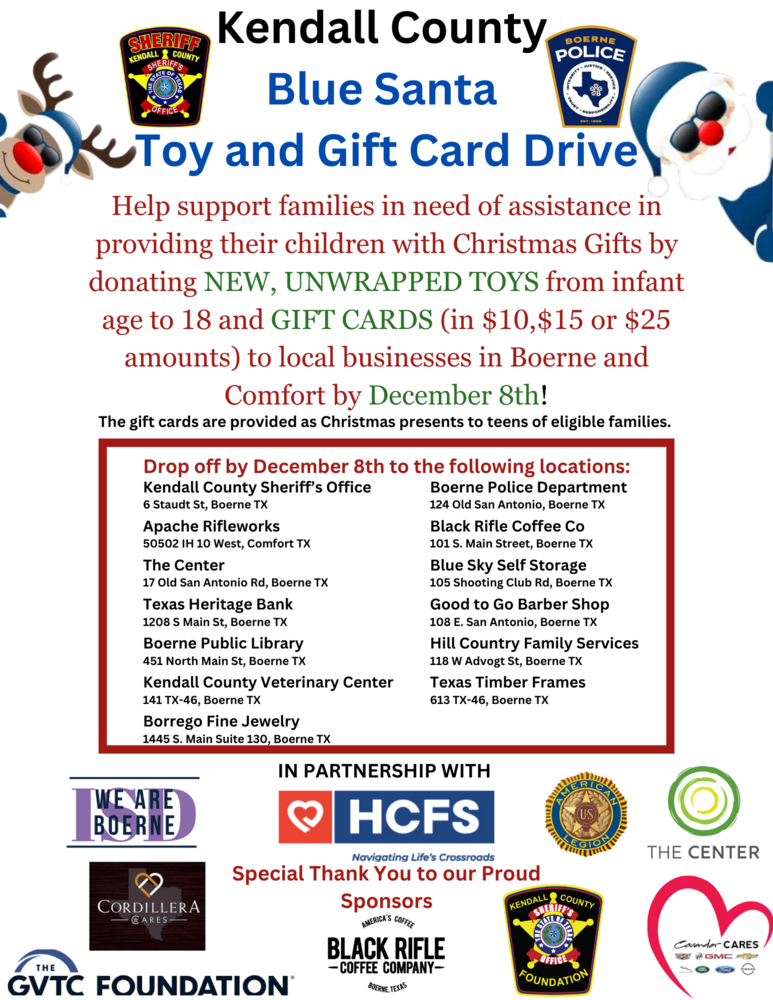 The Kendall County Blue Santa Program is excited to announce that we are accepting toys and identifying children in our community as recipients of the Blue Santa Program Toy Drive.
The Blue Santa Christmas Toy Drive was established to provide families in need with assistance in providing their children with Christmas gifts that they would not otherwise receive.
Once more, we are working in partnership with the Boerne Police Department and Hill Country Family Services to help serve the needs of our community. As a result, approximately 575 children were able to receive gifts in 2022 with the assistance of our generous community donations.
Families in need can come by the Sheriff's Office, Boerne PD or Hill Country Family Services and complete an application to receive gifts for their children this holiday season. The deadline to submit applications is December 8th. PLEASE SUBMIT ALL COMPLETED APPLICATIONS TO THE KENDALL COUNTY SHERIFF'S OFFICE.
To help as many families as possible, we cannot fulfill applications if registered at multiple agencies or organizations. We are also asking the community to help by supplying new, unwrapped toys for boys and girls from infant to eighteen years old and gift cards from local businesses in Boerne and Comfort. Any donations can be dropped off at the Sheriff's Office at 6 Staudt Street or any additional drop-off location listed in the flyer below until December 8th.