******Major IH-10 CLOSURE******
04/23/2021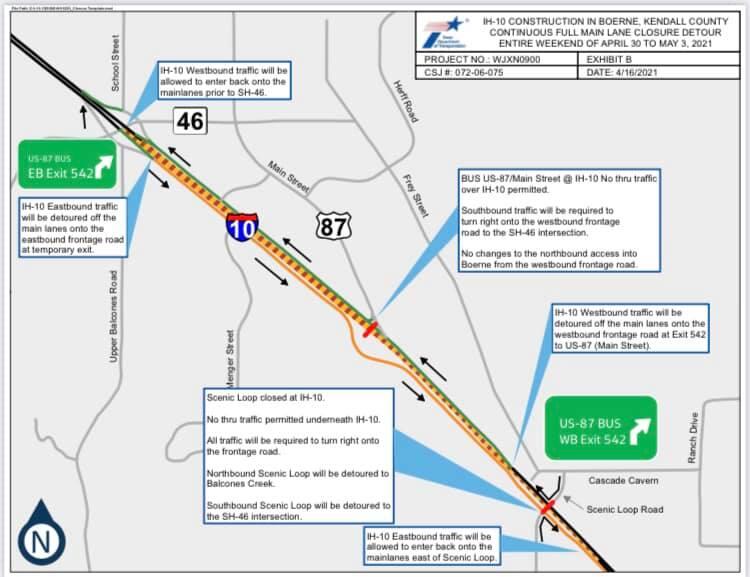 (Entire Weekend of April 30th to May 3rd)
If you plan to be out and about next weekend, make sure to plan and allow for extra time for your travels.
As part of the ongoing IH-10 frontage road construction, the contractor is progressing into the next stage of construction, requiring the demolition of the existing US-87 (Main Street) bridge.
To safely remove the bridge, they will need approximately 56 hours of continuous full main lane closure of the IH-10 eastbound and westbound travel lanes between SH-46 (Bandera Rd) and Scenic Loop. The removal of this bridge will allow crews to start working on the new US-87 bridge.
On behalf of the Texas Department of Transportation, this is to provide advance notice of this work that is scheduled to start on Friday, April 30, 2021, at 9:00 pm and is expected to complete by 5:00 am on Monday, May 3, 2021, weather permitting.
The westbound main lanes will be removed at Exit 542 Business US-87 and will be directed along the Westbound Frontage Road to the next available entrance ramp before SH-46, and the eastbound main lanes will be removed near SH-46 and will be detoured along the Eastbound Frontage Road and will be allowed to enter back onto the main lanes east of Scenic Loop. During this closure, there will be no through traffic at Scenic Loop under IH-10. All traffic will be required to turn right onto the frontage roads. Northbound Scenic Loop traffic will be detoured to Balcones Creek intersection and Southbound Scenic Loop traffic will be detoured to the SH-46 intersection.