Texas Motor Vehicle Registration (Temporary Waiver)
01/05/2021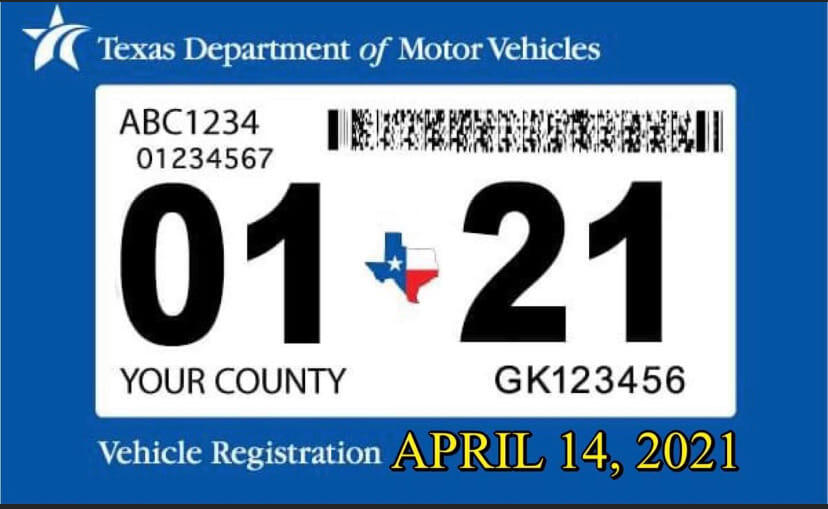 Does your vehicle registration expire this month?
Please read the following information completely and carefully:
The temporary waiver of certain vehicle title and registration requirements, announced by Governor Greg Abbott on March 16, 2020, due to the COVID-19 pandemic, remains in effect as of January 2021 and will end on April 14, 2021.
Texans have until April 14, 2021, to complete their transactions.
𝗜𝗳 𝘆𝗼𝘂𝗿 𝘃𝗲𝗵𝗶𝗰𝗹𝗲 𝗿𝗲𝗴𝗶𝘀𝘁𝗿𝗮𝘁𝗶𝗼𝗻 𝘀𝘁𝗶𝗰𝗸𝗲𝗿 𝗶𝘀 𝗲𝘅𝗽𝗶𝗿𝗲𝗱 𝗼𝗿 𝗲𝘅𝗽𝗶𝗿𝗲𝘀 𝘁𝗵𝗶𝘀 𝗺𝗼𝗻𝘁𝗵 𝗮𝗻𝗱 𝘆𝗼𝘂 𝗵𝗮𝘃𝗲 𝗻𝗼𝘁 𝗿𝗲𝗻𝗲𝘄𝗲𝗱, 𝘆𝗼𝘂 𝘀𝗵𝗼𝘂𝗹𝗱 𝗺𝗮𝗸𝗲 𝗽𝗹𝗮𝗻𝘀 𝘁𝗼 𝗿𝗲𝗻𝗲𝘄 𝗼𝗻 𝗼𝗿 𝗯𝗲𝗳𝗼𝗿𝗲 𝗔𝗽𝗿𝗶𝗹 𝟭𝟰, 𝟮𝟬𝟮𝟭.
It is unnecessary to wait until the deadline to complete any overdue transactions as motorists have several renewal options.
𝗥𝗲𝗻𝗲𝘄𝗶𝗻𝗴 𝗬𝗼𝘂𝗿 𝗥𝗲𝗴𝗶𝘀𝘁𝗿𝗮𝘁𝗶𝗼𝗻
If you renew your registration during the waiver period, you must pass vehicle inspection first. If you have already obtained a passing vehicle inspection, you may renew your registration online at https://renew.TxDMV.gov/.
You may also renew your registration by mail and, in some counties, in person. Contact your local county tax office directly to determine if in-person or drop-off services are available at any of the office locations in your county.
Services available in one county are not necessarily available in other counties at this time.
𝗖𝗶𝘁𝗮𝘁𝗶𝗼𝗻𝘀 𝗳𝗼𝗿 𝗘𝘅𝗽𝗶𝗿𝗲𝗱 𝗥𝗲𝗴𝗶𝘀𝘁𝗿𝗮𝘁𝗶𝗼𝗻
Law enforcement agencies statewide have been notified of this waiver. However, we are not a law enforcement agency and cannot speak to the policies of individual agencies or officers' actions, and we cannot provide legal advice if a citation is issued.
𝙍𝙚𝙢𝙞𝙣𝙙𝙚𝙧: 𝙏𝙝𝙚 𝙏𝙚𝙭𝙖𝙨 𝘿𝙚𝙥𝙖𝙧𝙩𝙢𝙚𝙣𝙩 𝙤𝙛 𝙈𝙤𝙩𝙤𝙧 𝙑𝙚𝙝𝙞𝙘𝙡𝙚𝙨 𝙙𝙤𝙚𝙨 𝙣𝙤𝙩 𝙞𝙨𝙨𝙪𝙚 𝙙𝙧𝙞𝙫𝙚𝙧 𝙡𝙞𝙘𝙚𝙣𝙨𝙚𝙨.
Please contact the Texas Department of Public Safety for assistance with driver licenses, learner permits, identification cards, and related services:
www.dps.texas.gov.