KCSO Welcomes K9 Renne
10/06/2021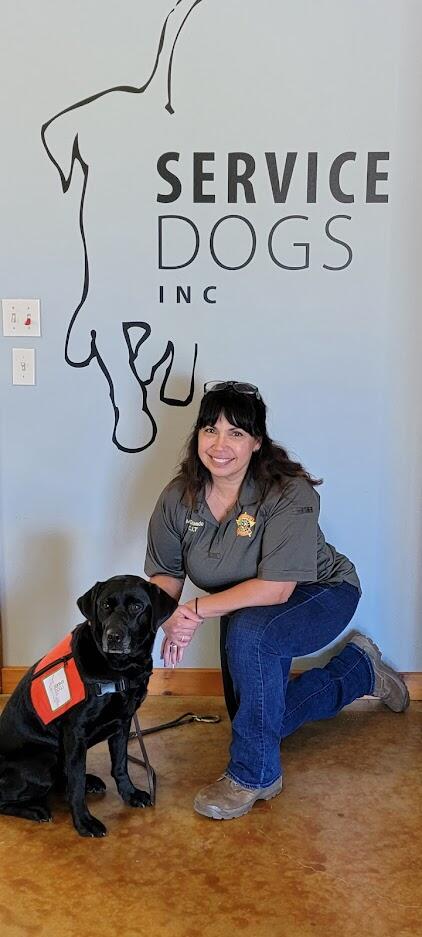 The Kendall County Sheriff's Office would like to welcome our newest K9 Renee. Renee is a 3-year-old female black lab provided to the Kendall County Sheriff's Office by Service Dogs, Inc. out of Dripping Springs Texas.
Service Dog's Inc was founded by Attorney Sheri Soltes in 1988. Sheri and her team's passion have helped build better lives for Texans through partnerships with custom-trained assistance dogs. Service Dogs, Inc. provides the dogs free of charge to persons with disabilities and institutional clients. SDI rescues dogs abandoned to shelters and provides them with renewed lives of love and purpose. They also work with career change dogs from Guide Dogs for the Blind.
Renee is not just any police K9. She does not search for narcotics, she is not used on patrol to locate criminals or search for missing people, but her job is just as important. Renee is the Sheriff's Office Facility K9 who has special training to assist first responders to process daily stressors, traumas, grief, and critical incidents they may encounter on the job. Renee's job is to assist with the Peer Support Program to provide comfort to first responders and others when they need it the most. Renee's presence at the Sheriff's Office provides daily release of stress and gives comfort to all employees as she makes her rounds.
Another job duty Renee has is to assist handler Deputy Michelle Quade in the Crisis Intervention Mental Health program. Deputy Quade's duties consist of responding to calls within our community, helping people in an immediate mental health crisis, or assist in preventing a crisis requiring emergency response. Deputy Quade serves as a resource to members of the community seeking assistance with mental health, substance abuse, and sometimes developmental disabilities. Deputy Quade provides follow-up in-person or phone call visits to individuals and family members who have experienced a crisis or have reached out to her for assistance in some capacity. When suitable, Renee will accompany Deputy Quade on crisis calls and follow-up home visits. However, Renee's safety will always be a priority before allowing her to participate in any call or home visit.
We are excited about our partnership with SDI and K9 Renee because of our commitment and passion for our first responders and community members' mental health. In just a short time K9 Renee has brought joy and smiles to so many proving that this program is going to play an intricate role in the Mental Health of our community. K9 Renee serves as the first facility dog awarded to a law enforcement agency by SDI.
With most service dogs, other than the handler, people are not supposed to pet the service dog. Renee's primary role as a Facility Dog and working with the Crisis Intervention MH division will be to socialize with first responders and people in the community as we visit various homes, businesses, schools, and other facilities within Kendall County.
If you see Deputy Quade and K9 Renee out and about don't hesitate to say Hi and ask questions. Renee can be recognized by the orange-colored vest she wears while working. The only rule for Renee during her ventures in the community is for people to ask permission to pet her. Deputy Quade will instruct you where Renee likes to be petted. (Hint - just under the chin.)
Service Dogs, Inc. relies on donations to support its training program. Renee's training was sponsored by a grant from Yacktman Assets Management. Learn more about SDI at www.servicedogs.org