National Weather Service Update!!!!!
02/13/2021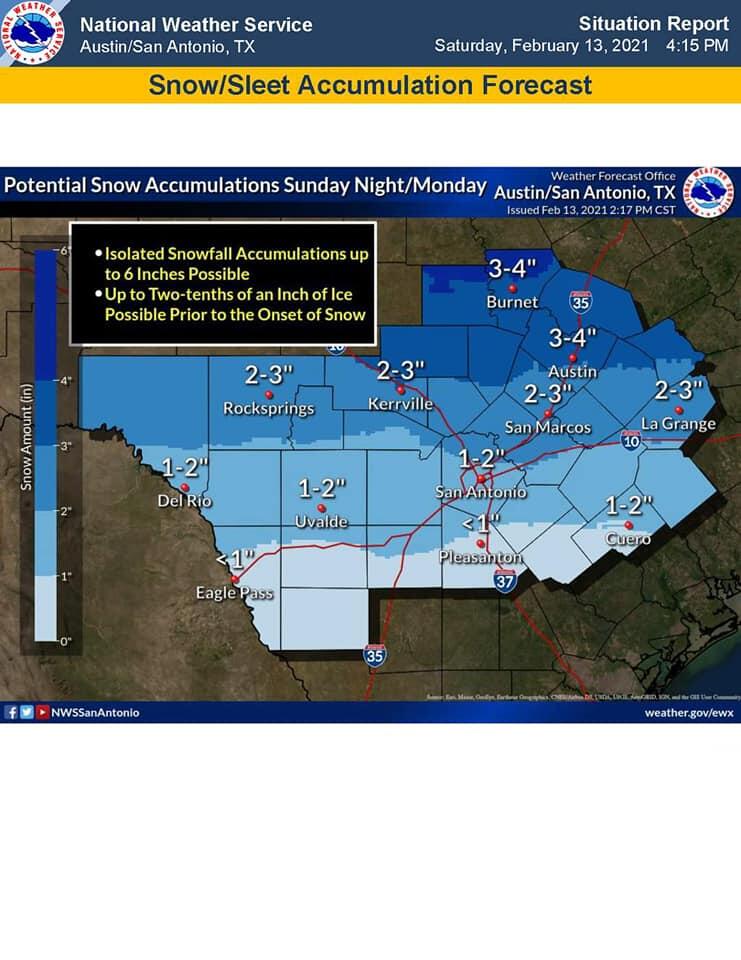 Road conditions are deteriorating quickly. Please avoid traveling if at all possible.
BELOW IS THE LATEST FORECAST FROM THE NATIONAL WEATHER SERVICE'S AUSTIN/SAN ANTONIO OFFICE ...
• Patchy freezing drizzle and freezing rain chances continue tonight into tomorrow morning. Icy conditions could deteriorate making travel more difficult and dangerous.
• A major winter storm will move across the region Sunday afternoon through Monday morning. A mix of freezing rain and sleet is initially expected, with a change over to all snow Sunday night. Travel will be very difficult to near impossible across many areas. Blowing snow in some areas could reduce visibility and snow may obscure ice underneath. Travel is highly discouraged Sunday night through Monday.
• Scattered power outages could occur, especially across the Hill Country and Central Texas where ice still exists from earlier rounds of winter precipitation
• Bitterly cold air will spill into the region by Monday morning. The coldest temperatures since 1989 are forecast Monday and Tuesday mornings, with low temperatures in the single digits and teens. Strong winds will make it feel even colder, with wind chill values both mornings ranging from 15 to 5 degrees!
• Check frequently on those without heat. Protect plants and pipes. Provide warm shelter for pets.